Why We Care
INSPIRATION
In November of 2014, an article on OregonLive.com caught the eye of Shapira Foundation Trustee, Eli Shapira. It spoke of a need for teddy bears for the Beaverton Police Department's Buddy Bear Program in Washington County and after a bit of research the Hug Patrol®️ stuffed animal program was born. This new program of the Shapira Foundation is about helping children in stressful situations as well as offering local law enforcement and emergency responders a way to reach out to the community.
FILLING A NEED
While first responders have access to a variety of sources for donated teddy bears, many are the wrong size or not of the highest quality. The Hug Patrol®️ stuffed animals are newly purchased, packaged and sized in a way that is consistent and easy to use. We work closely with emergency response organizations to find the best size and packaging requirements for their vehicles. The Hug Patrol®️ program stuffed animals, allows first responders to easily take one along and offer comfort to kids involved in traumatic situations.
COMFORTING CHILDREN
To have a stuffed animal to hold onto in the midst of a tough time can be very beneficial to a child. Our goal is to donate new, unused stuffed animals to emergency responders and child advocates so they can provide children with a bit of comfort. A small act of kindness can go a long way and with your help we can make a difference to children's lives when they really need it.
Our Mission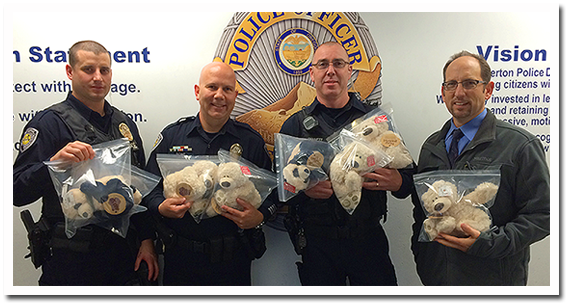 A SMALL ACT OF KINDNESS CAN GO A LONG WAY
The Shapira Foundation, a federally tax exempt non-profit charitable foundation established in 2001 located in Portland Oregon, is proud to support first responders and provide comfort to children through our Hug Patrol®️ stuffed animal program. We donate new stuffed animals to police officers, fire fighters and medical personnel to give to children in crisis. The goal of the Hug Patrol®️ stuffed animal program is to provide emergency responders with a consistent supply of new, unused stuffed animals to help ease the pain and fear of children in traumatizing situations.
The Shapira Foundation works closely with a number of non-profit organizations in the Portland, Oregon area. Please visit shapirafoundation.org for more information.